Steve Ball
Steve Ball, born 1958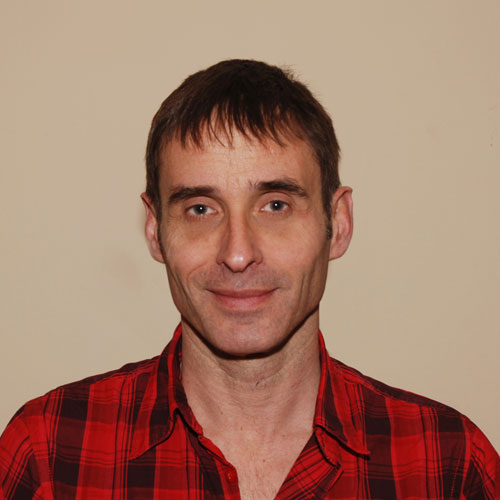 Summary

Steve Ball moved to Birmingham 21 years ago, in 1986, as he had got a job as a clown in primary schools in Balsall Heath. He was 26 years old. He discusses his early impressions of Birmingham, having previously lived in Barcelona amongst other cities. He later talks about having to hide his sexuality whilst teaching. He talks about Birmingham Pride Community Trust, how it came about and the successes it has had lobbying for equality in the city.


Contents

Being gay in 1970s – 10 11
Working in teaching - 20
Homophobia in teaching - 21
Now out at work - 30
Birmingham scene 1980s - 31
Comparison of scene now and 80s - 32
Gay Politics – 40
Gay Liberation Front - 40
Jug - 50
Nightingale - 60
Women's access to bars – 60
Birmingham Pride Community Trust – 70 80 90 100 105
BEM LGBs 70
Mental health 70
Pink Picnic 2007 – 80
Queer Question Time 2005 – 90
Gay Life Matters – 100
Are you being served - 105


Growing Up

10 Growing up gay in the 1970s

"It was a different experience then - far more conservative."

11 Being gay in college

Steve and his partner were the only gay men in the college. "We were in varying degrees of closetedness, it was quite difficult. The expectation then, particularly for going into teaching, was that it (homosexuality) was very much frowned upon"

20 Working in Teaching

Steve said "Even in the late seventies, if you were going into teaching, you kept your sexuality quiet…things have changed now…gay teachers are not victimised…not bullied. It was in my interests to keep my sexuality quiet."

"… (In the 70s) there were, in society's mainstream beliefs, overt connections between homosexuality and paedophilia. Society's views in general were that the two were synonymous."

21 Homophobia from colleagues

As a teacher, Steve faced more prejudices from colleagues within the education sector. At his first school, he was directly asked if he was gay by his headmaster and he lied to him, saying that he was not. At his second school, an international School in Barcelona in 1980, Steve says that he could have been sacked if his Headmaster knew.

30 Out at work

Steve moved to Birmingham in 1986, and now works at the Birmingham Repertory Theatre. He acknowledges that working within such a sector it is easier to act yourself as a gay person than it may be working in other professions. He is now completely open about his sexuality.

31 How the scene has changed '80s to now

Talking about Birmingham over the years, Steve says; "Over the past twenty years, the commercial gay scene in Birmingham has expanded from a couple of pubs…there used to be The Village, The Jester and The Nightingale on Thorp Street…… there was a fairly desolate gay scene."

32 Gay scene '80s and now

Steve compares the scene as it was then with how it is now. "The gay scene was nothing like as varied as it is now…it is still fairly limiting now…in Birmingham, the scene is predominantly alcohol or drug based, and catering for guys aged between 20 and 40."

40 No political edge

Steve says, "Birmingham never really had a political edge to the community. There was GLF (in the seventies)…the Gay Liberation Front."

50 The Jug

Steve remembers The Jug during the late 1980s. This was a club that was located in the same building that Subway City is now, on Livery Street. Two older gay men, Laurie Williams and his partner Lionel ran it and also lived above the club with their pet dogs. "They were like something out of Little Britain, it was absolutely amazing." Steve recalls looking under a table on the balcony of the club and seeing a water bowl that belonged to one of the dogs. He recalls that there were three bars and the middle one was called The Water Garden. "There was water sliding down the walls…there was algae and everything….it stank! They used to play a gay Bingo…'Gingo'…to a packed dance floor….the dance floor was not very big."

60 The Nightingale

The Jug's main competitor in 1986 when Steve came to Birmingham was the Nightingale, then in Thorp Street. He recalls that there were two dance floors on one level and it was about half the size of the current club. Male strippers formed a regular part of the entertainment. "It was like any gay club, in any gay city really." He notes that women were not then allowed in the Nightingale and indeed "There were no women on the scene".

70 Birmingham Pride Community Trust's origins and purpose

"Birmingham Pride Community Trust grew out of the Pride festival as a number of us were frustrated that the festival was somewhat losing its political edge and becoming something of a three day beer festival. What we wanted to do was recognise that lesbians and gay men in this city are here 365 days a year and we wanted to address issues concerning quality of life all year round. A group of us spent two or three years talking about what we could do and eventually got our fingers out and formed Birmingham Pride Community Trust in 2002. I'm the chair with a board of twelve lesbians and gay men from across the city from all walks of life, we are principally concerned with improving services for the LGB community. We have a number of priorities including tackling homophobic bullying in schools, meeting the needs of older LGBs in care homes, addressing the inequalities in health and ensuring that the gay village reaches its full potential in terms of development. We are working closely with the City Council and Stonewall." Other BPCT priorities include lesbian and gay health "In mental health alone, there are huge issues to address." Another BPCT priority is black and ethnic minority LGBs. "It is still very difficult for LGB people within black and ethnic communities to come out". The BCPT regularly has correspondence, articles and adverts in Zone magazine

80 Pink Picnic 14 July 2007

Steve describes an event organised by Birmingham Pride Community Trust: "The Pink Picnic was in Cannon Hill Park in July 2007, more than 100 people met up, played cricket, had a picnic and enjoyed the sunshine. What was great about the Pink Picnic was that it was a real cross section of Birmingham LGB community, younger and older lesbians and gay men from all walks of life. Sometimes when you walk into a gay bar on Hurst Street it's not representative and it's dominated by men who are aged between 25 and 40. This picnic had children there, sons and daughters of gay parents, with ages ranging from 7 – 90."


90 Queer Question Time – 29th April 2005

Steve said that the Birmingham Pride Community Trust (BPCT) also did a 'Queer Question Time' that was held in Birmingham Hippodrome. Representatives from three main parties were invited, including MPs Claire Short and Andrew Mitchell. "There was a scene, when the UKIP rep, who had not been invited, refused to leave and was arrested. That got the event onto the front pages of the papers and produced some publicity, it was generally positive publicity."

100 Gay Life Matters – September 2004

Steve said that Birmingham Pride Community Trust (BPCT) had also organised the 'Gay Life Matters' project which was a series of events to discuss issues covering health, housing, family and community and the future of the gay village.

105 Are you being served? May 2005

"The BPCT was also involved in setting up a consultation exercise in May 2005– 'Are you being served?'. We got forty people from amongst the community to discuss the provision of services and how their needs are being met. The second stage of the process was in July 2005 when representatives from the local service providers were invited so the feedback could be given to them".