Barry Jackson
April 1961
On 15 February 1913, just before the first World War, Sir Barry Jackson, one of Birmingham's few gay high profile celebrities, opened the Birmingham Repertory Theatre on Station Street (now known as the Old Rep).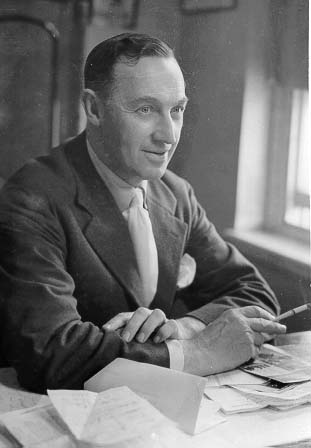 Barry Jackson, knighted in 1925 for services to theatre, was the son of George Jackson, founder of the Maypole Dairies. His theatre-loving father named his son after the actor Barry Sullivan, and regularly took him to the Theatre Royal on New Street and the Prince of Wales Theatre on Broad Street. With friends he started his own amateur company, the Pilgrim Players, barnstorming round the Midlands, playing the Edgbaston Assembly Rooms, and taking W. B. Yeats' play The King's Threshold to London. Idealistically, they wanted to "serve an art instead of making that art serve a commercial purpose." Success brought a dream of a purpose-built theatre.

Most of the early productions were directed by H. K. Ayliff and designed by Paul Shelving. The repertoire was extraordinarily wide and included innovative modern dress Shakespeare, medieval moralities, Greek drama and modern experimental drama such as Georg Kaiser's Gas. Ever popular Devon comedies by Eden Philpotts were revived whenever the bank balance flagged. Bernard Shaw came to Birmingham to see Heartbreak House and founded the Malvern Festival with Sir Barry in 1929, writing The Apple Cart for the first season.

Many plays transferred to London or toured. In 1932 Sir Barry was supporting four companies and told Shaw he had spent over £100,000 supporting the theatre, calling it "more fun" than running a yacht. However, in spite of the unexpected box office hit 1066 And All That in 1935 the City took responsibility, founding the Birmingham Repertory Theatre Trust.

Sir Barry Jackson had an excellent eye for young talent, and many young actors who later became household names gained valuable early experience with the Rep. They included Laurence Olivier, Peggy Ashcroft, Edith Evans, Stewart Granger and Ralph Richardson in the early period.

More recent talents include Paul Scofield , Julie Christie and Derek Jacobi . Peter Brook directed at the Rep just after World War II and transferred with Sir Barry and Paul Scofield to Stratford. Sir Barry returned to Birmingham Repertory Theatre in 1948, but retired from running the company. He died in 1961.

Have a memory of this? Signup today and tell us about it! or login!