Larry Grayson
January 1995
Larry Grayson could regularly be found at the Grosvenor House Hotel with his best friend Noelle Gordon.

Larry Grayson was one of the first television comedians to suggest an openly gay persona. He did not achieve stardom until he was in his fifties and had his own television show. An early TV appearance in the 1950s had led to many complaints about his act being too outrageous and Grayson had resigned himself to a career off television. He was very popular in review and working men's clubs with a unique and very gentle anecdotal style of comedy. It was usually based around his various 'friends' such as Everard, Apricot Lil, Slack Alice and the postman 'Pop it in Pete'. A lot of this was observational. Grayson's family owned the only telephone on the street when he was a child, and he used to listen to his neighbours using the phone.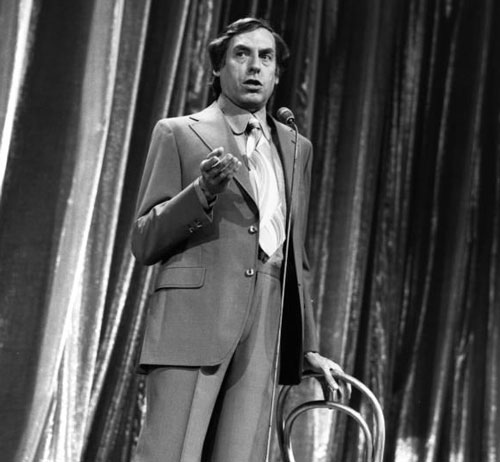 Following a hit run of guest spots on ATV variety shows in the 1970s, he was rewarded by Lew Grade with his own award winning show, Shut That Door! (1975).

Grayson's popularity peaked when he moved over to the BBC to present The Generation Game in 1978.

Attracting audiences of over 18 million each week, the show became even more popular and ran until 1981. Grayson was aided and abetted by Isla St Clair, whom he always referred to as "my lovely Isla". Despite its popularity, The Generation Game was being beaten in the ratings by its ITV rival Game for a Laugh and the BBC took the decision to end the series in early 1982. Accepting this decision philosophically, Grayson went into semi-retirement, enjoying time on his own at his bungalow with his beloved dogs.

He also made two memorable cameo appearances in the Midlands-based soap opera Crossroads, as a flouncing, difficult customer at the Crossroads Motel, and as the chauffeur at the wedding of Meg Richardson (played by his close friend Noelle Gordon). Ironically, Grayson couldn't drive.

Grayson always refused to speak about his sexuality. Grayson was celibate, although near the end of his life he did 'come out' as being gay.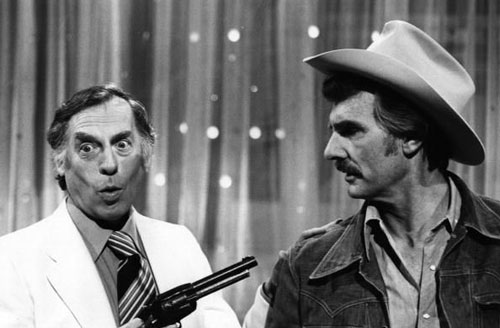 It was said that he had been incensed at an objection by one councillor at a Nuneaton town council meeting to the idea of a monument for Grayson in the town. Apparently the comments made were unpleasantly homophobic. Grayson asked his family to ensure that no memorial to him was ever to be erected there.

Source - Wikipedia

Have a memory of this? Signup today and tell us about it! or login!