Pretty Police Score Again
1989
These front two page articles from 'In The Pink' published in August 1989, highlight the level of police activity against gay men who were Cottaging.

PRETTY POLICE SCORE AGAIN!

Five men have received fines of £250 (plus costs of £25) at Seisdon magistrate court after admitting to various "indecency" offences, (4 of committing an act of gross indecency and one of indecent exposure). The five were arrested at Highgate Common, near Wombourne, as reported in last months issue. The police alleged that their week long investigation was in response to complaints by (unnamed) members of the public about 'the activity of homosexuals".

Five more men had their cases against them dismissed when the prosecution offered no evidence. Seven cases are yet to be heard from this particular police operation. In the case of the five convicted men the local evening newspaper, The Express and Star, printed their names addresses and employment. The five who had the charges against them dropped faired little better with The Express and Star printing their names, addresses but not their employment.


RUGBY ARREST

A reader of Gay Times in the Rugby area reports that police are using an "Agent Provocateur" to arrest a gay man in a Public Toilet. The gay man, a friend of Gay Times reader was arrested by a policeman, who was wearing "ripped faded jeans, a tight white T-shirt, a black leather jacket, close cropped black hair and a moustache". "He was acting in a manner that suggested he was looking for sex".

"My friend did not make any approach or talk to the guy but he was arrested on his exit of the toilets because he had a 'semi--erect penis whilst standing at the urinal'."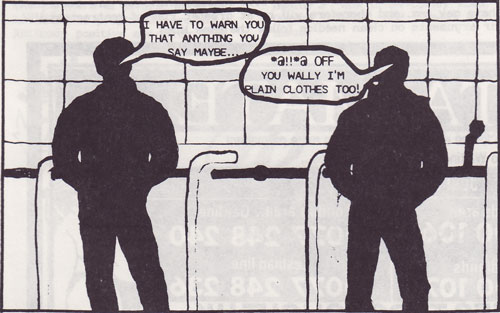 YOUR RIGHTS, IF ARRESTED

What are your rights if arrested, we asked Westmidlands Switchboard for some information. If you are being arrested keep calm and don't panic, try to remember every thing that happens to you and when you are released write it down. The police can only hold you at the police station if they have actually arrested you. When they have arrested you they are supposed to let you have access to the "Police Codes of Practice", which details your rights. The only thing that you are obliged to tell the police is your name and address, if you don't then they are liable to hold you until they can verify who you are.

You can be held uncharged for 24 hours and during that time the police can deny access to a lawyer, however this is unusual. When you go to the station they will search you, list your possessions and remove them. Ask to keep your watch, pen and paper, so that you can check the length of detention and make notes if necessary. It is rarely done but the police can search your mouth, nose, ears, anus and/or vagina for class A drugs or dangerous weapons. This is
normally carried out by a doctor or nurse and they must only use "reasonable force".
You can be photographed without your consent but force should never be used. The police will also take finger prints, 'you can 'object to this but if they have a magistrate's consent they can take them anyway. Intimate body samples ie blood & semen, can only be taken with your written consent and by a doctor or nurse.
After 24 hours the police must either charge and bring you before or bail you to appear before a court or release you. At this point you have an absolute right to see a lawyer.

POLICE PRACTICE

The Police will imply that if you plead guilty it will be all over quickly and that you will avoid publicity. This is not necessarily true, if you deny your guilt you may spend longer at the police station than if you "confess". In either case its likely that you will spend several hours at the police station. They have no control over publicity surrounding your case as it depends on if a reporter happens is in the court during you trial.
In the station keep asking to see a lawyer, do not make a
statement until you have, Switchboard has a list of sympathetic solicitors. They rely on gay men pleading guilty and signing confessions which have been concocted by themselves. If you plead not guilty and the police have no other witnesses then it is not unknown for them to drop the charges (however there is no guarantee that this will happen).


Contributed by: In The Pink, 21